Skirting boards
You have just finished laying your new parquet flooring. However, you are still missing something you need for a harmonious overall picture: the skirting boards.
These can be quickly and easily fixed to the wall to round off the floor nicely.
Skirting boards not only protect your walls, they are also the perfect accompaniment to the floorboards.
What are skirting boards or skirting boards?
Decorative with a protection function – skirting boards
Skirting boards are generally narrow strips that offer a harmonious and aesthetically pleasing finish between the wall and the floor. Skirting boards will give your four walls a stylish and tidy appearance while being the optimum design for the transition between the wall and the floorboards.
Furthermore, a skirting board keeps dirt away from your wall and protects the wall from impact damage such as when you are vacuuming or mopping. Skirting boards with a cable duct are particularly practical, as you can hide cables behind them quickly and easily.
What distinguishes floor strips?
Skirting Boards not only as a design element for your wall
On the one hand, skirting boards are a design element. On the other, they also ensure that the expansion joint that needs to be left beside the wall when laying laminate or parquet is covered.
After all, floor coverings such as laminate or parquet always require a certain gap between them and the wall due to their tendency to swell and expand.
Skirting boards for all requirements
HOLZ-BARAN GmbH skirting boards can satisfy your individual requirements entirely.
Whether you would like them untreated, oiled, varnished, planed or sanded – you will find that there are hardly any limits on the design options for our skirting boards.
You are guaranteed to find the right skirting board for your wooden floor. With regard to the material, you can choose at will between:
Oak
Smoked oak
Red oak
Ash
Skirting boards available in many colour tones, colours and treatment variants
Like our floorboards, our skirting boards are also available in many colour tones, colours and treatment variants (such as oiling, brushing, whitewashing, varnishing and ageing).
This allows you to match the skirting board to your floorboards. After all, the individuality, exclusivity and quality of our products are HOLZ-BARAN GmbH number one concern.
In order to be able to assure the quality of our materials as fully as possible, we source our wood ourselves and process it in our own sawmill. The end results are functional skirting boards and high-quality parquet and floorboards.
What style of living are you interested in?
Skirting boards are generally considered unobtrusive and usually pass all but unnoticed. But with an attractive look and the right design, these boards tucked away at the edge of wooden floors can quickly become real eye-catchers.
We can offer you these practical elements in very different versions and décor styles. Benefit from a very wide variety of décor styles and finishes and underscore your own style of living.
Tip: An LED strip attached above the skirting board can conjure up some beautiful highlights and a cosy, homely atmosphere, especially when the lights are dimmed and at dusk.
Baseboards from our own production
Stylish wooden skirting boards
Solid-wood skirting boards are extremely popular. That should not come as a surprise, as this kind of skirting board is considered very stable and robust. As the name suggests, these skirting boards are made of pure wood.
What's special about a solid-wood skirting board is its natural graining, a feature that is retained during woodworking. The graining will lend your living space a certain charm while also making a quality impression.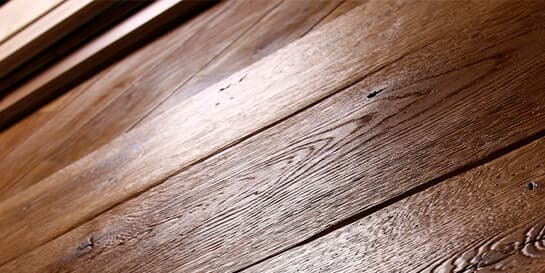 Baseboards for solid wood planks
These models are particularly well suited to solid-wood floors or solid-wood floorboards made of oak. A wooden skirting board can also easily be used as a ceiling strip.
If your ceiling has wooden panelling, for example, a solid-wood skirting board provides an ideal transition to the wall.
You can see: The simplicity of these elements means that they can be used anywhere.
How to attach baseboards? Simply fasten skirting boards using different methods
Skirting boards can be fixed to the wall using various methods:
Skirting boards to match our wooden floor collections
The skirting boards give your four walls a stylish and tidy appearance and make the transition from wall to floorboards visually advantageous.
In addition, our skirting boards are the perfect companion to our wooden floor collections. We manufacture the matching skirting board made of solid wood to match your selected wooden floor, with cable routing if required. Of course, you also make the choice here as to how your skirting boards are to be attached – with mounting clips or for gluing.
If you have any questions about our wooden floor collections and their skirting boards, please contact us – the HOLZ-BARAN GmbH team will be happy to advise you.